Join Us at SEMICON Europa 2023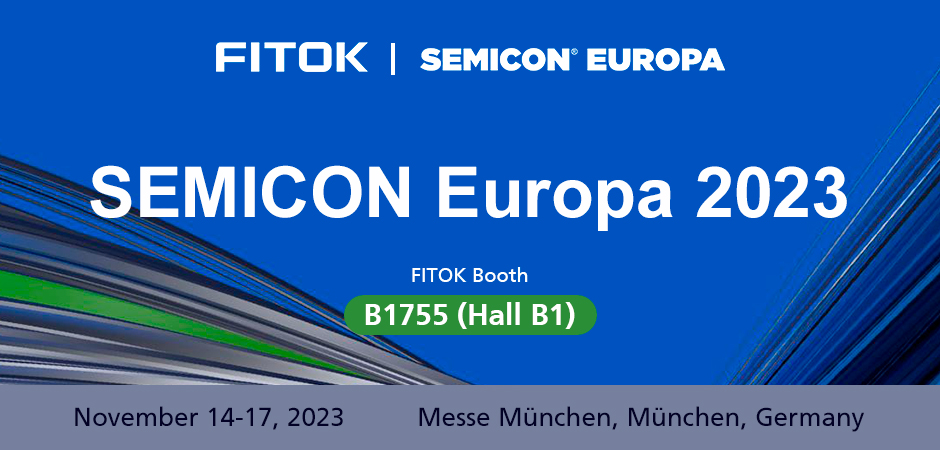 SEMICON Europa 2023 will be held in Munich, Germany, alongside Productronica, the world's leading trade fair for electronics development and production. This co-location creates the strongest event in Europe for electronics, especially for semiconductors. The event will showcase the entire range of technologies and solutions for electronics production and provide in-depth insights into the latest trends.
Date: Nov 14-17, 2023
Venue: MESSE MÜNCHEN, Germany
FITOK Booth: B1755, Hall B1
As a leading supplier of superior UHP fittings, valves, tubing, and integrated systems for the semiconductor industry, FITOK will be showcasing a range of ultra high purity products at this exhibition, including Atomic Layer Deposition Diaphragm Valves, High Purity Ball Valves, High Purity Diaphragm Valves, High Purity Pressure Regulators, Metal Gasket Face Seal Fittings, and High Purity Tubing. Additionally, we are excited to introduce new products such as Gas Stick Assemblies, Pneumatic Diaphragm Valves with Locking Devices, and Two-Step Pneumatic Diaphragm Valves.
Another new exhibit—FITOK Integrated Gas System will also be present. It uses SEMI-compliant surface-mounted components and is modularly designed, which reduces device size and simplifies installation and maintenance.
Sample of Integrated Gas System
Join us at SEMICON Europa 2023, and visit FITOK's booth, located at B1755, Hall B1, to explore our latest achievements in semiconductor applications. We look forward to meeting you!