Integrated Gas System
Introduction
Integrated Gas System is a modular system used for gas control in semiconductor industry. With the advance of semiconductor process technology, higher requirements for gas control system arise.
FITOK integrated gas system adopts surface mount components conforming to SEMI standard for modular design, which makes installation and maintenance simpler while reducing the size of the system.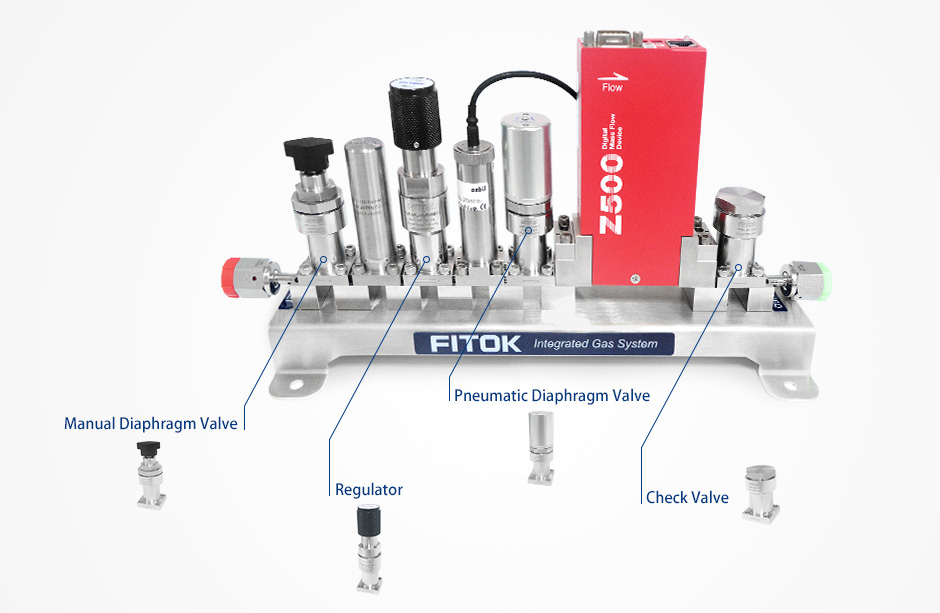 Single Flow Path System
Features
Modular design - shorten design time
According to the customer's PID diagram, the design can be completed by installing standard substrate, valves (diaphragm valves, check valves, regulators), flowmeters, filters, pressure sensors and other components on the panel.
Surface mounting - easy installation and maintenance
All components are surface mounted in accordance with SEMI standard (1.125'' W-seal/C-seal, 1.5'' W-seal/C-seal), and installation and later maintenance can be completed with simple tools.
Miniaturization
The size is about 1/3 the traditional panel, and the corresponding flow path size is also reduced for better contamination control.
316LVV material, electropolishing process and orbital welding
The wetted components are all 316LVIM-VAR austenitic stainless steel, the flow paths are all electrolytically polished (Ra 0.13), and the fittings are all orbital welded.
W-seal/C-seal
W-seal/C-seal between the components and the substrate, the sealing faces are independent of components receiving external forces, thus achieving the optimal sealing effect.
Nine Flow Paths System
Seven Flow Paths System
Ordering Information
FITOK can design and supply Integrated Gas System according to customer PID diagrams, where filters, pressure sensors and MFC can be provided by customers or FITOK can purchase under customer-provided brands.
Please see the Integrated Gas System Catalog for more information. Should you have any questions, please contact us directly and We will reach you soon.