Sampling Assemblies - Expert Assembly and Custom Solutions to What You Need
Expert Cylinder Assembly. Custom Configuration. Fully Tested and Traceable.
Overview
Sample cylinders can be used for many applications across several industries. With a variety of configurations and requirements for sampling, FITOK has developed an offering to cover every need. In addition to manufacturing each component, FITOK also offers full assembly, testing, and certification on standard, TPED, and DOT rated cylinders.
Technical Data
Assembly Working Temperature: -20°F~200°F (-28°C~ 93°C)
Assembly Working Pressure: 1800 psig (124 bar)
Duplex Stainless Steel: 316 SS, 304 SS, Monel, Hastelloy, Duplex Stainless Steel
Cylinder: TEPD and DOT cylinder available, capacities from 75 ml to 2250 ml
Quick-connects: Stem (or body) with valve or without valve, QC series and QTM series optional
Hoses: metal hoses and PTFE hoses, etc.
Outage tubes: To determine the cylinder outage by selecting different outage tubes
Other options: SilcoNert® 2000 (Sulfinert®) coating, NACE MR0175, needle valves with rupture disc and spring relief devices

Standard Assembly Configurations
Note: Besides these standard assembly configurations, other customized configurations are also available upon request.
Accessories
Cylinders
Volume: 75 ml, 150 ml, 300 ml, 500 ml, 1000 ml and 2250 ml
Material: 304L, 316L and Alloy 400
Connection: Available in a variety of connection types
TPED cylinders or DOT cylinders optional
Needle Valves
Body material: 316 SS, 304 SS, Hastelloy C-276, Alloy 400, etc.
Size: Available in a variety of sizes
Connection: Available in a variety of connection types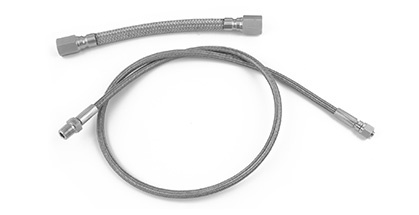 Metal Hoses
Series: PS, MH series, etc.
Core tube material: 316 SS and smooth PTFE
Overbraid material: 304 SS
Hose size: 1/4" to 1"
Connection: Available in a variety of connection types
Spring Relief Devices
Spring relief devices can be used with FITOK sample cylinders as a safety device.
When the system pressure reaches the set pressure, the device will open automatically to release the excess pressure in the system. After stabilizing the system pressure, the device will close automatically.
Please see the product catalog for more information. Should you have any questions, please contact us directly or contact your nearest authorized distributor.
Related Articles: